The Garden Soapery was Founded in 2015 
in Santee, South Carolina!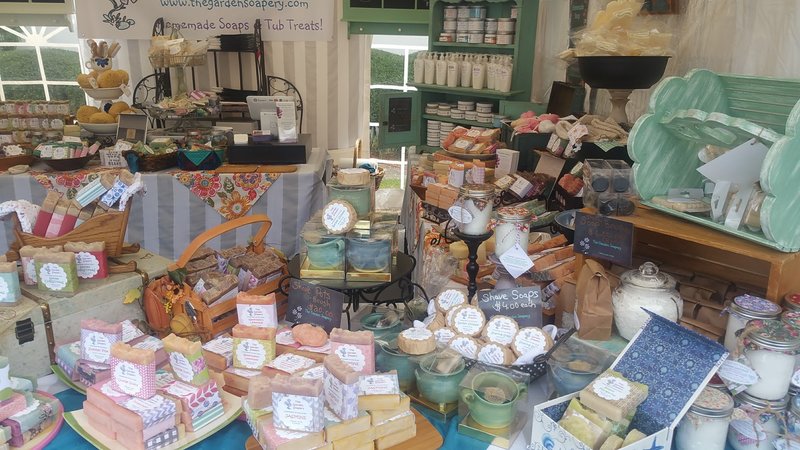 Let the pampering begin with you and end with a 
smile on everyone's face.
Here at The Garden Soapery we are just beginning to find our true niche in the world.
Hi, my name is Viola and I love what I do.
 Even more, I love the feeling that comes from seeing others enjoy it too. 
My very humble beginnings go back to the foster care system in New Jersey, The "Garden" State.
I went on to be a Mom of 3 while also becoming a tractor trailer driver, which I had aspired to all my life.
I had to give up driving a truck because of an accident that made me unable to continue in that field of work.
I discovered life can be hard, but I've learned to navigate through it all.
 I also learned you can't help a single one of God's souls unless you yourself are prosperous.
That leads me to my ultimate goals for the future.
1. To have a company that will support my disabled self without being on disability. DONE.
2. To give back to the community around me. I am dedicated to making sure the 
homeless in our area are clean. So far  we've given away over 500 bars of soap, and we aren't done yet!
We accept donations to help us offset the costs of making this a bigger endeavor. 
While we send some soap to Kenya, the bulk of it goes to The Oliver Gospel Mission in Columbia, SC.
3. To build this business to a multi-million dollar company that employs others. Why? See #4
4. We want to be able to offer internships to kids being aged out of foster care.
Unfortunately, many foster kids with no family to guide them wind up helpless/homeless.

The Garden Soapery would like to be the benefactor that helps the foster care community.
Then, they too can become prosperous people in our great world.
I thank God always for the Blessings He promised us.
I thank each and every one of you who continues to make this dream of mine a reality.
Thank you for being my customers, friends & family.
God's Blessings on each of you.
​