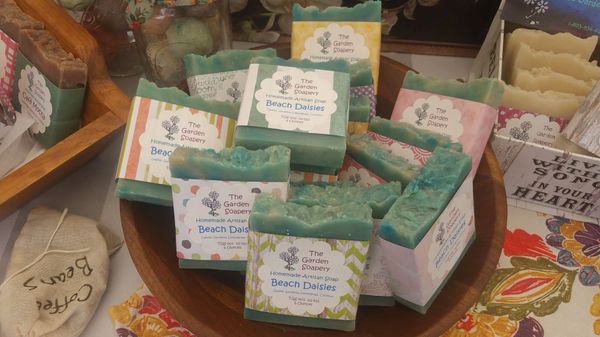 All of our soaps are handmade, and due to this handmade nature, design, texture, and color variations may occur, but that is part of the soap's character and charm; it's NOT perfect or popped-out of a machine! Some soaps contain ingredients (specifically fragranced soaps) that can accelerate thickening of the soap in production, and affect design techniques such as swirling. We cannot always achieve an identical swirl design in every batch. 

We take time to make our soap loaves unique. Each loaf/layer is hand poured, the curls, embeds etc are carefully created by hand. It takes a little bit of extra time to make, but our customers appreciate this! Our soaps are not mass produced or made with industrial soaping equipment. Each loaf is created by hand and an original work of Art & Love. 

How to care for your "The Garden Soapery" Homemade Soaps!

Once you have decided on your favorites there are some tips to getting the best results. Since homemade soaps are naturally high in glycerin which is great for your skin it also attracts water so you want to make sure and keep it dry between uses. We make our own handmade homemade soap decks that are wonderful for wicking away moisture or a soap dish with raised nubs can help you preserve the life of your homemade soap.

Please note that our "The Garden Soapery" bars are unique and individual they weigh about  6 oz. That is an above average weight for most soap bars on the market.  We love to create shapes of flowers so some may have a design on them. If you note they are a gift I will try to make sure it is a designed bar. We recommend storing your homemade soap in a cool, dry place-preferably NOT the bathroom.  A linen closet or your dresser drawers is great (plus the soap will make your linens/clothes smell great!).

Precautions: As with any soap, please be careful and keep it out of your eyes(rinse thoroughly with water if this occurs) discontinue using soap if irritation develops.

Be sure to check the ingredients if you have allergies. Be aware some of our soaps may have ingredients that may bother sensitive skin (cinnamon, coffee, oats, flowers, mint etc.) and that some of these ingredients can be scratchy. Soap is slippery when wet, so take care not to step on a wet bar while bathing. Please, we know it smells good but DO NOT EAT THE SOAP.